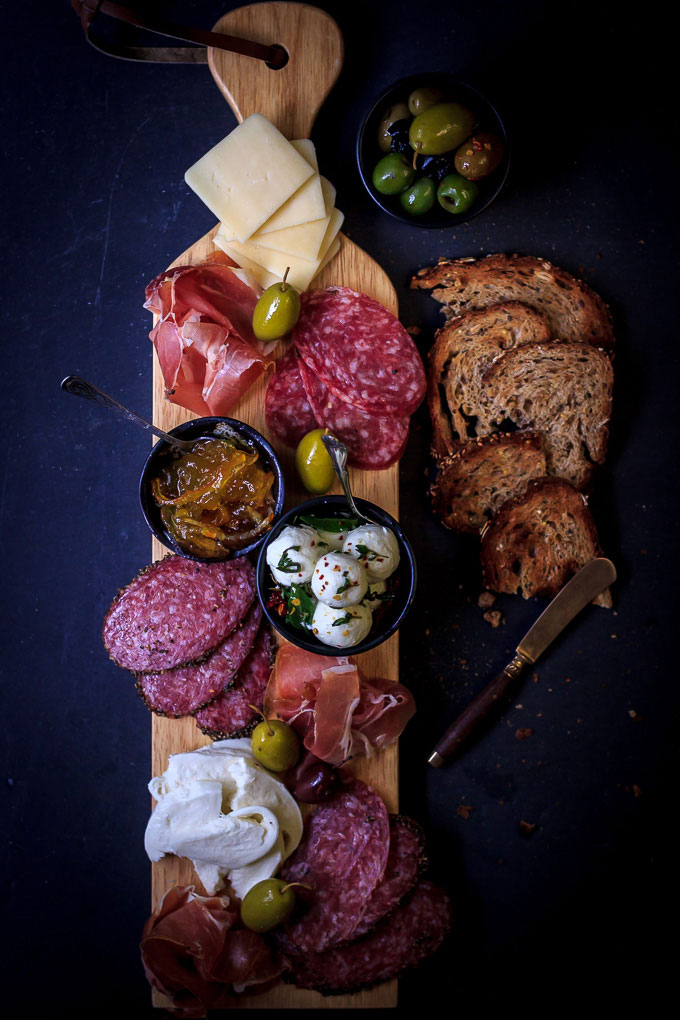 Have you already planned the most romantic holiday of the year? I think I did. It will be intimate, quiet, romantic evening with wine, Antipasto platter, Panna Cotta, and movie.
We usually go out to a good restaurant for Valentine's Day or buy concert or show tickets as a gift for both of us. But one year Valentine's Day was in the middle of the week, and we both were so tired that week. We decided to skip going out and stayed at home. I was not in the mood to cook any special dinner, and we both agreed to put together antipasto platter, some appetizers, and simple dessert. And let me tell you that was one of the relaxed Valentine's Day ever. This year the 14th of February is Tuesday, and I have a feeling we will end up with the same plan. I want to share with you some ideas on how to celebrate Valentine's Day at home and how to make a perfect antipasto platter to celebrate it.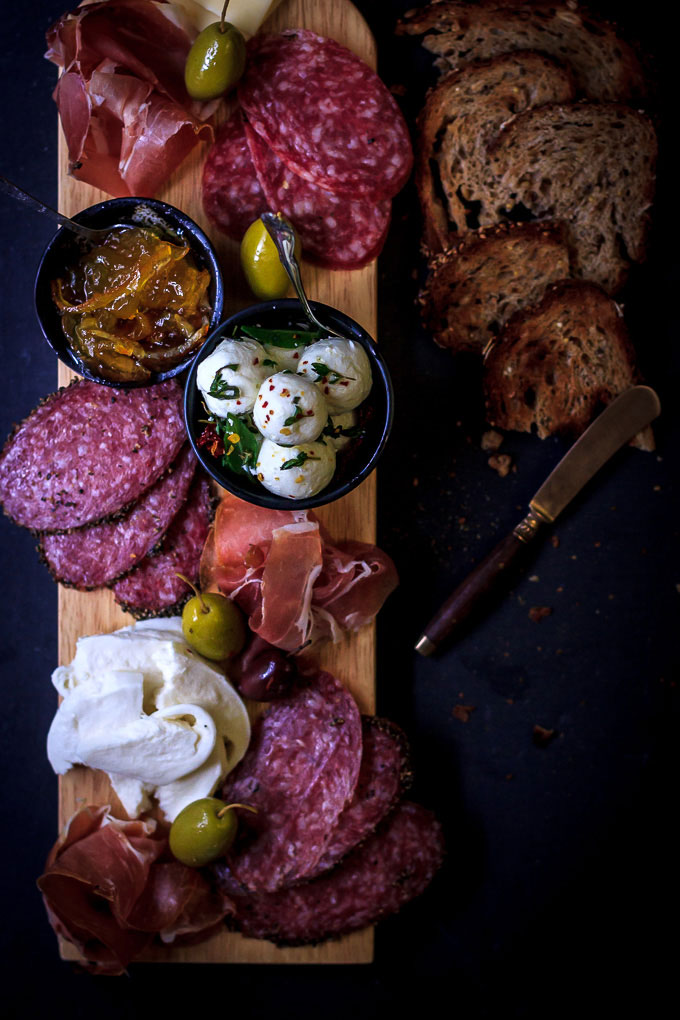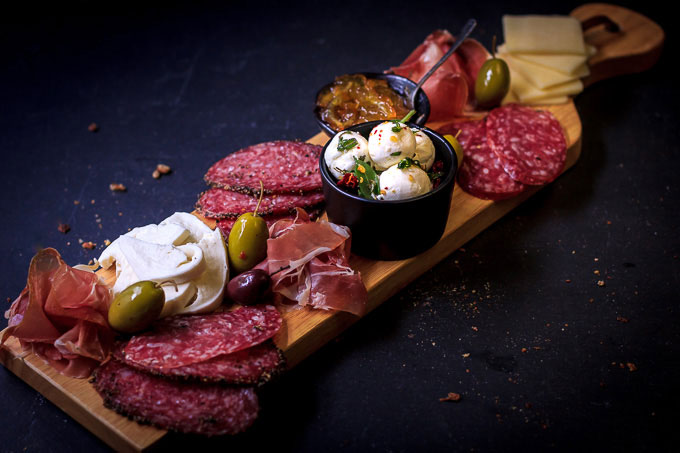 I always feel like the antipasto board is a perfect appetizer for special occasions. It is simple, yet fancy, delicious, and sexy. Sounds like a natural choice for the romantic Valentine's Day Dinner. The feeling of eating together, taking the food from one platter, discussing what tastes better with the wine, listening to music creates the connection that is hard to make in the restaurant. None of the restaurants can make you feel as relaxed and natural as you feel at home. Plus, there are so many other additions you can make, like an expensive wine or champagne, the music YOU love, burning as many candles as you wish, the snuggling on the sofa, watching the romantic movie, and of course polishing all of this with a dessert.
For casual dinners like this, I always stick to easy and simple dessert like Panna Cotta. You can use this Panna Cotta base and leave it either pure vanilla or top with anything you want from fresh berries to any sweet sauce.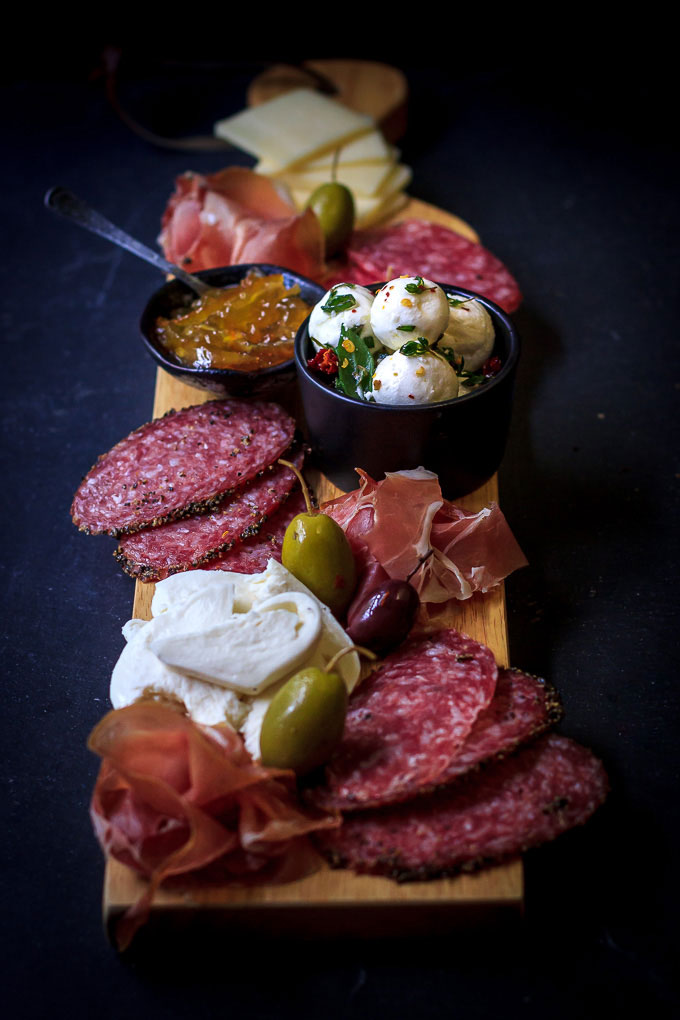 Regarding the antipasto platter, you can create it with ANYTHING you want.  This antipasto platter is just an inspiration and an idea.
My Tips and Tricks on How to Make a Perfect Antipasto Platter:
Keep things different and exciting. In case someone doesn't eat pork, then offer beef salami or pastrami. The same with the cheese, if someone prefers soft cheese over the hard offer both varieties, so everyone has something to enjoy.
Buy a good, seasonal and unusual spread, marmalade or jam. You can find it now everywhere. I usually buy mine at a good price at Marshalls, TJ MAX, Ocean State Job Lot. It is winter outside so for me Orange Marmalade is a winner for this antipasti platter.
Take a good care of the bready part: crackers, sticks, bread, etc. I usually buy artisanal dark or whole-wheat bread. Thinly slice it and brown slightly in the oven or under the broiler. The good-quality crackers are also a good thing.
Olives are must for me on any the antipasto platter. This is the time when better to spend a little more on olives. Nothing spoils the antipasto platter more than cheap canned olives.
I usually add something made by me to antipasto board, and this time it was marinated goat cheese in extra virgin olive oil with herbs. This is optional, but it adds more interest.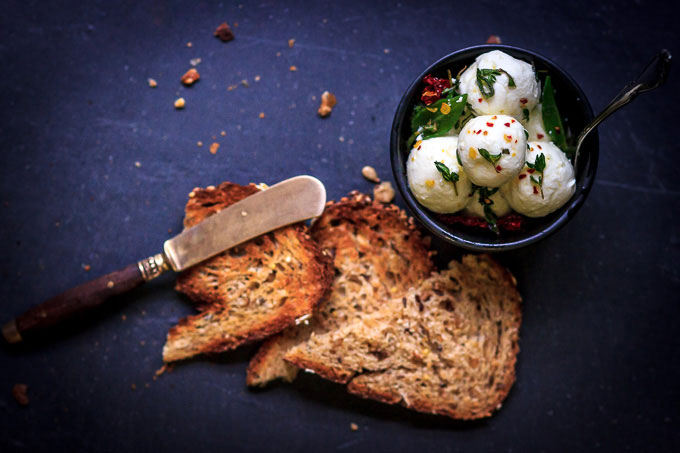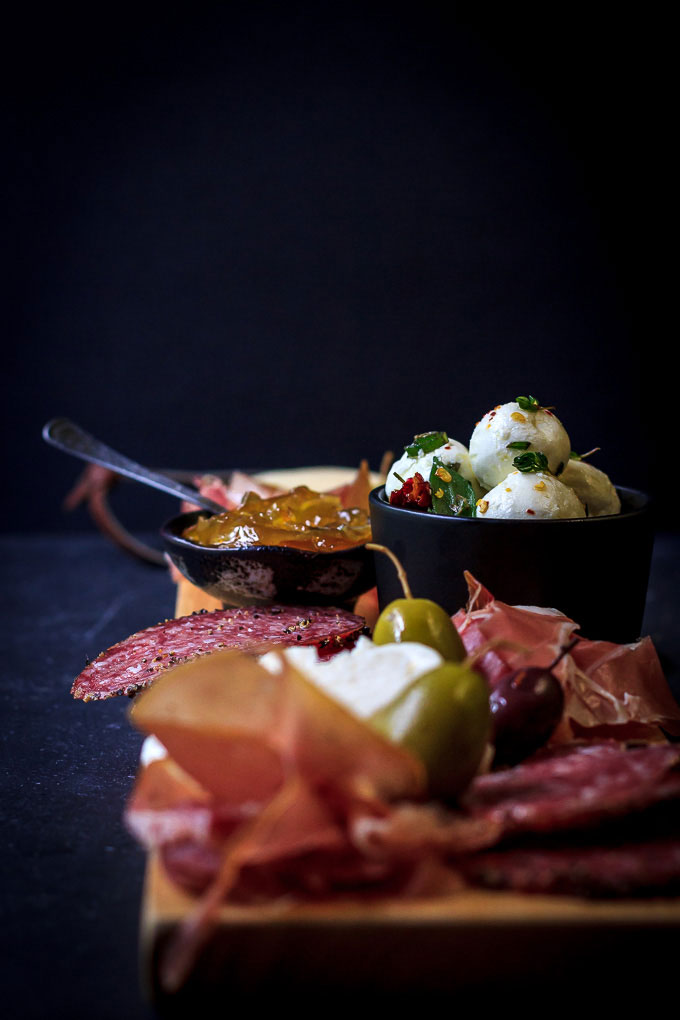 Now, the music. It's obviously the personal preference. For me, Jazz is a sexy love song. Among my favorites are Ella Fitzgerald, Frank Sinatra, and Club Des Belugas. Here is a cool playlist The 15 Jazz Love Songs for inspiration.
Then we slowly move to a couch of course with more wine and watch a romantic movie. Such a tough choice on the movie. If Jazz is the perfect love music, then an old classic movie will set the perfect tone for a romantic evening. Among my favorites are Great Gatsby, Roman Holiday, Casablanca. If you are not up for a classic movie, no worries. There are a whole bunch of good modern movies like Notebook, You've got mail, Sleepless is Seattle, Notting Hill, Ghost and so much more.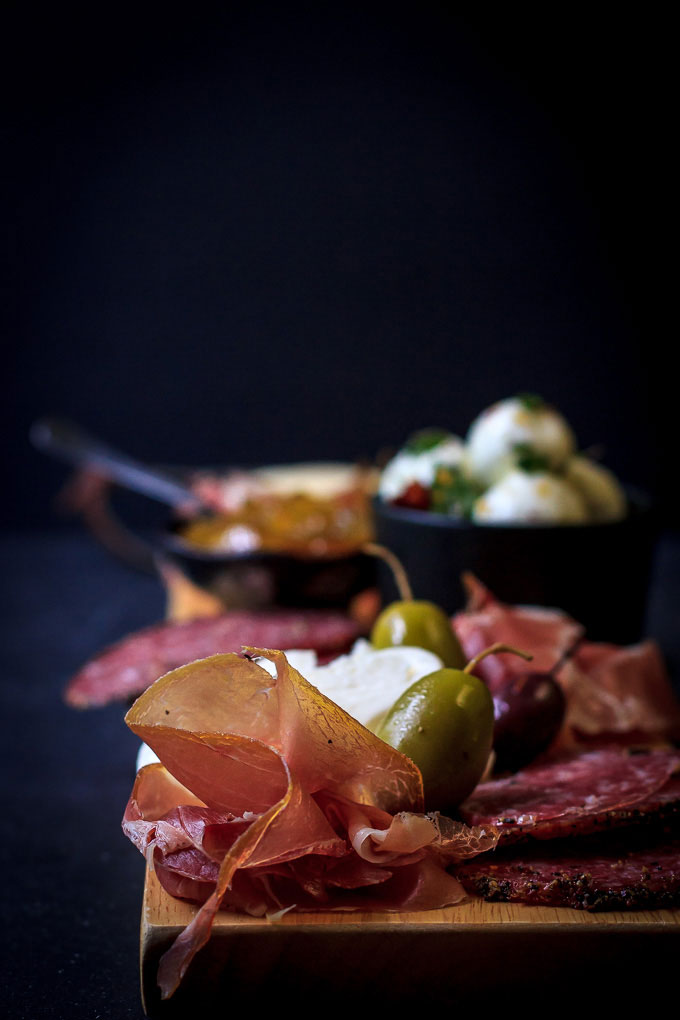 My Plan for The Perfect Romantic Valentine's Day:
Food: Antipasto board and chicken liver pate.
Dessert: Panna cotta or Zebra Cake
Drinks: Pinot Noir or Cabernet Sauvignon
Music: Jazz (Ella Fitzgerald, Frank Sinatra, and Club Des Belugas) or Sting
Movie: I think I will stick to Notting Hill or You've got mail. Not my 1st choice but have to consider my husband's preferences.
Don't get me wrong; I do not discourage you from going out to a restaurant or plan surprise romantic dinner for your loved one. So far, January has been very busy for us, and I just want to slow things down and share an evening with my husband.
Eating from one plate cured meat, olives, cheeses and drinking a good wine call me old fashioned but it feels so authentic and sexy. No matter how you will plan your Valentine's Day the most important thing is to say out loud how much you love your partner.
"One word frees us of all the weight and pain of life: That word is love." 
Happy Valentine's Day to all people who carry the love in their hearts ❤❤❤.
Love,
Masha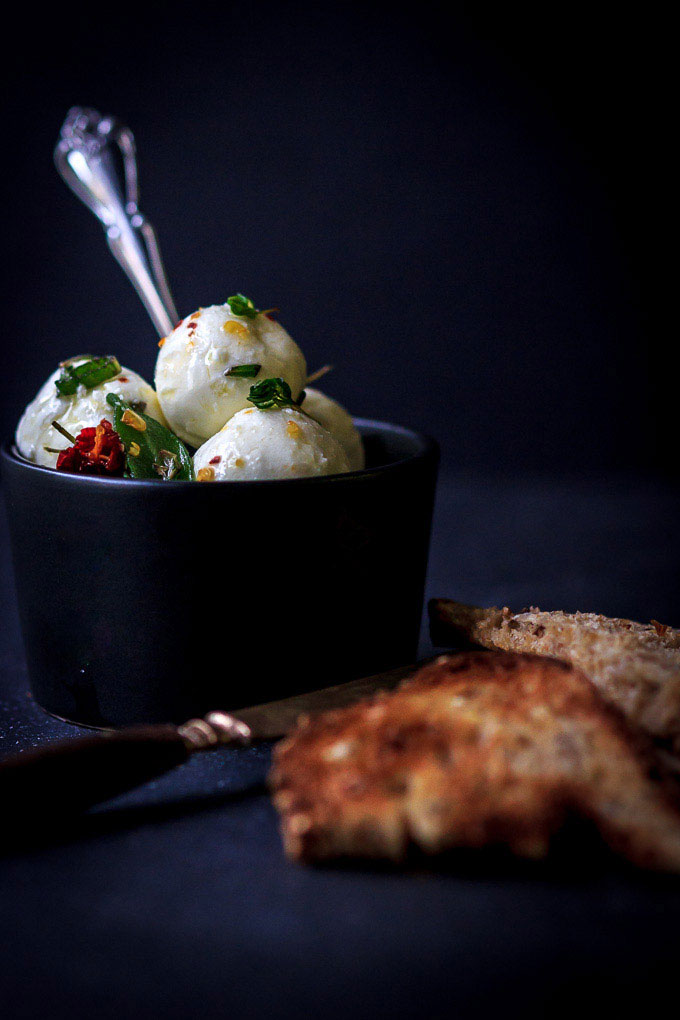 Yields: 2+ servings, depending on the amount of ingredients
How to Make Perfect Antipasto Platter
20 minPrep Time
20 minTotal Time
Ingredients:
For the Antipasti Board:

Any soft cheeses: mozzarella, brie, camembert, SCHLOSS
Any semi-Hard cheeses: BABY SWISS, CHEDDAR, MANCHEGO, FONTINA, GOUDA, HAVARTI,
Any hard cheeses: ASIAGO, ROMANO, COTIJA
Seasonal Marmalade, Spread, or Jam
Dry-cured or Water-cured Olives: KALAMATA, CASTELVETRANO, NIÇOISE, MANZANILLA, BELDI, AMFISSA, GAETA, Picholine
Cured Meats: Capicola, Mortadella, Pancetta, Prosciutto, Salame, Sopressata
Something bready: Crackers, bread sticks, pretzels or simply seedy bread thinly sliced and browned on both sides.

For the Marinated Herbed Goat Cheese:

4 oz. goat cheese
½ cup extra virgin olive oil
1 garlic clove, crushed but not chopped
1 tbsp. Fresh rosemary, chopped
1 tbsp. Fresh thyme, chopped
1 tbsp. Fresh sage, chopped
½ tsp. red pepper flakes
Instructions:
Marinated Goat Cheese:
Lightly grease your hands with olive oil and make small balls from the goat cheese. Place them in the container or a jar. In a small ball combine the rest of ingredients and pour everything over the balls. You can marinate it 1 week ahead. Keep refrigerated for up to 2 weeks.
Antipasto platter:
Spread all the ingredients on the platter or board. Brown the thinly sliced bread.
Serve immediately.
7.8.1.2
18
https://thepuretaste.com/perfect-antipasto-platter/