This easy to make, no bake chocolate energy balls recipe is vegan, gluten-free and refined sugar-free. No baking is required! Simply put all ingredients in a food processor, and after a couple of pulses, you have a perfect healthy snack to keep you awake throughout the day and week 😉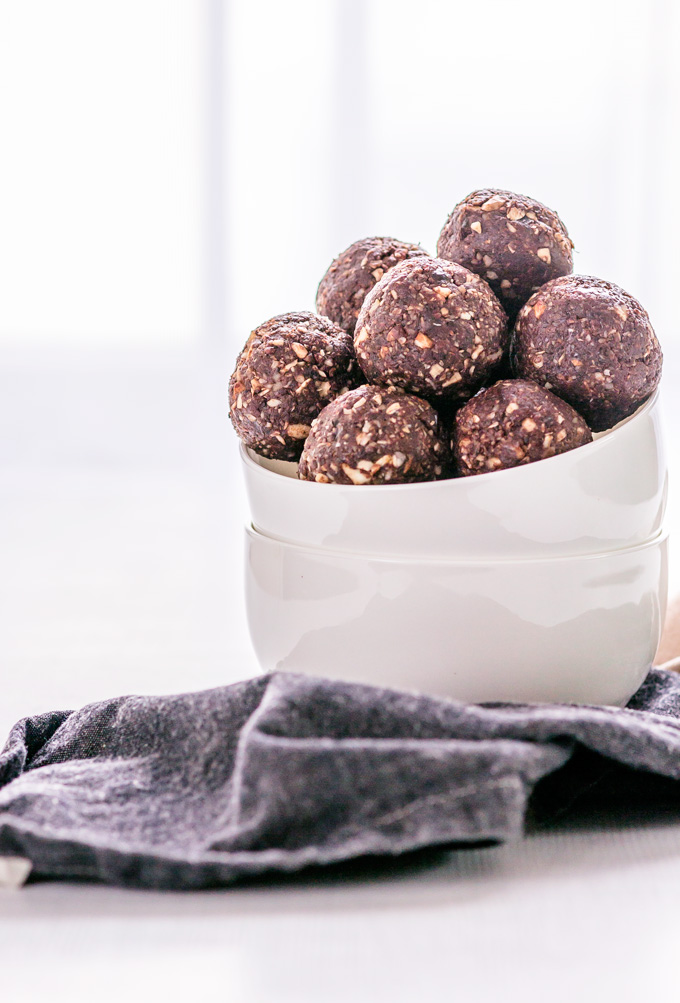 There are so many energy bites recipes out there. I used to save all of them without reading the ingredient list. When the time came to make them I realized I don't even know what some ingredients are. Maybe there are healthy, but usually, I avoid the fancy food trends. I like to stick to simple ingredients that I know and trust. The ones that prove themselves as healthy, nutritious and good for you. The ones I have on hand and use all the time. I hate to buy trendy stuff because someone said it is healthy. I used to buy it, don't like it and feel guilty to throw, so my kitchen was filled with lots of jars and packages. Until I stopped falling into the marketing trap.
Energy bars are so popular right now. And marketers are doing their best to convince you they are good for you and you need to eat them all the time. I tried some store-bought energy bars and didn't like them at all. Way too sweet for me and contains some harmful ingredients.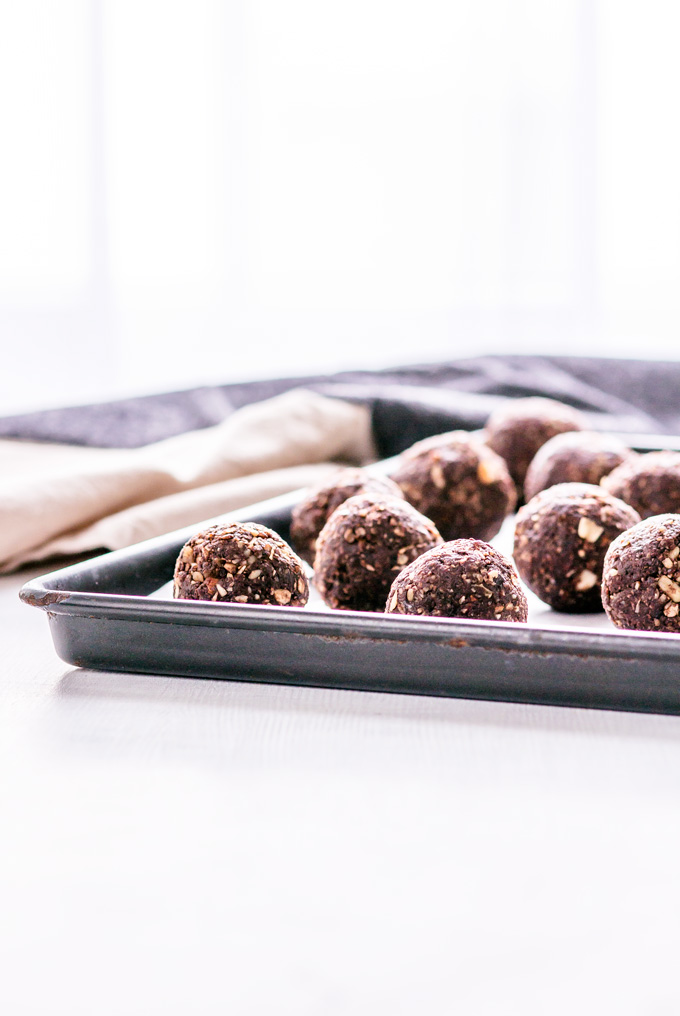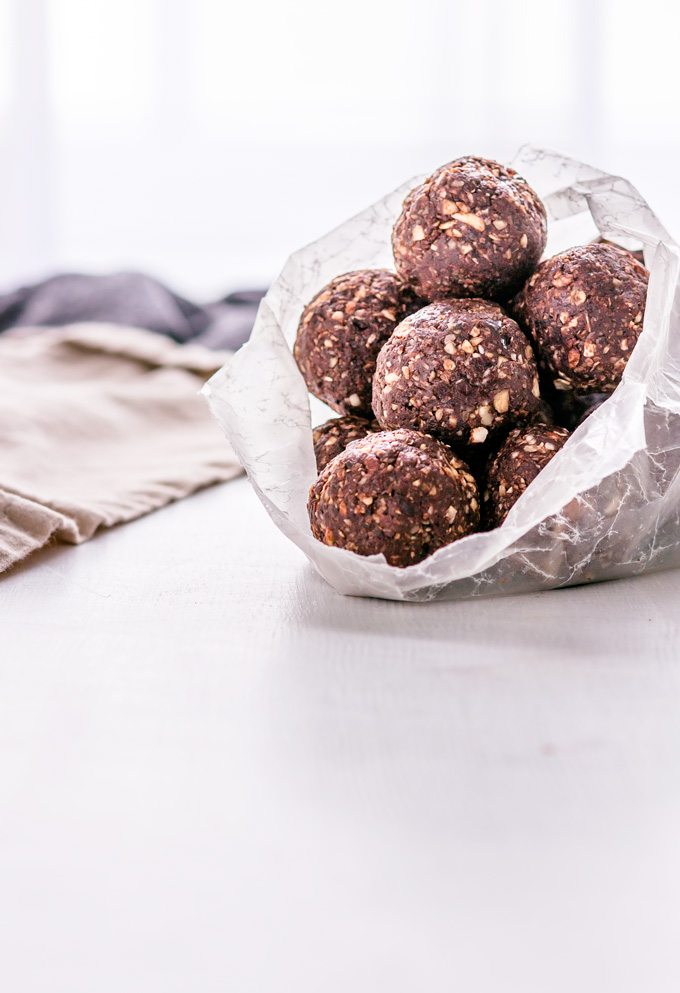 I created this recipe with my favorite simple ingredients: dates, nuts, oats, cacao, coconut and some extra add-ons. I wanted a simple snack that I can make in less than 10 minutes but can enjoy it for weeks. Especially for active and busy weeks.
I usually make no-bake energy balls when I know there will be a lot of active work during the week. Or when an active season comes in. Like now. I take it for hiking, biking, long walks, picnics, etc. They are super convenient and easy to carry everywhere you go. That is why I like them so much. They are my sweet treats that do no harm 😉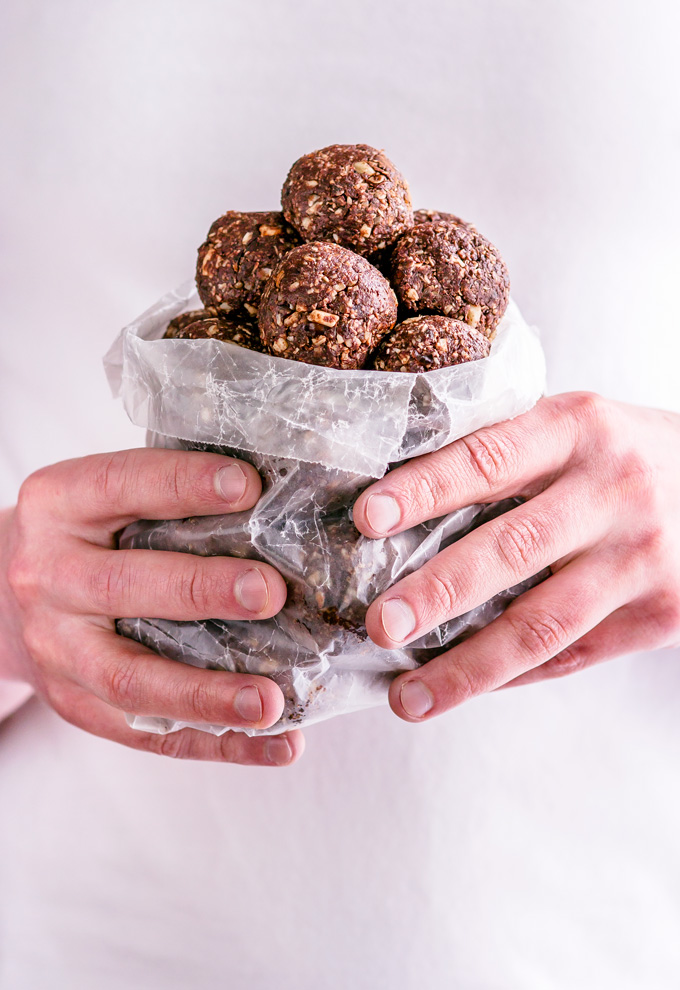 BUT…
Are energy bars good for you?
It depends. If you eat a whole bunch of them all the time, then NO. If you eat them when you do some physical work or as a snack once in a while, then YES.
You see energy bites have a lot of calories because of all the protein from nuts, fiber from oatmeal, sugar from dates, etc. Which are good things for an active lifestyle or when you don't consume enough of these ingredients.
I personally make and eat them often. I'm not a huge fan of raw nuts and don't consume enough of them. For me sneaking nuts into the delicious chocolate energy bites is the best way to consume more nuts along with other good nutritious ingredients.
So yes, energy bars are healthy when you eat them with purpose! Like with any food if you eat it in moderate amount and at the appropriate time, then you will do a favor for your body.
Also, one more positive thing why you should make no bake energy bites is that you know exactly what goes in it and can control sugar level of it. This recipe for energy balls calls only for a ¼ cup of maple syrup, which is enough to stick everything together. A lot of store-bought energy bars use way too much sugar and other additives to prolong the shelf life.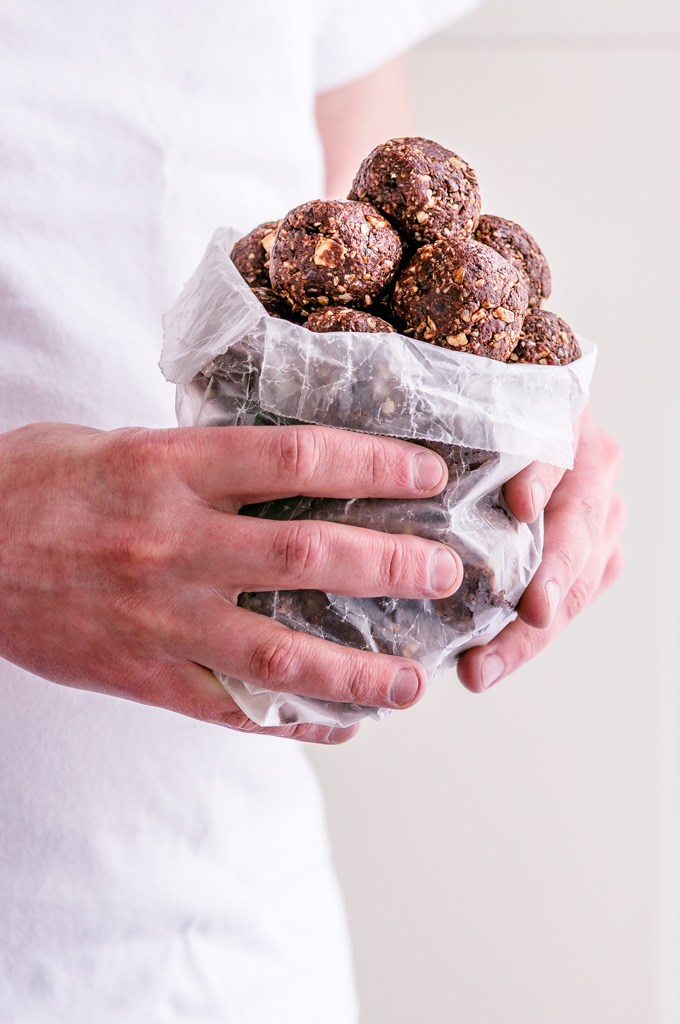 Now you know the benefits of energy balls, and hopefully, I convinced you to give them a chance. Once you learn how to make energy balls, you will never buy one again. The beauty of the homemade energy balls is that you can customize it and make it the way you like it. Experiment and create your best energy balls recipe.
Happy cooking!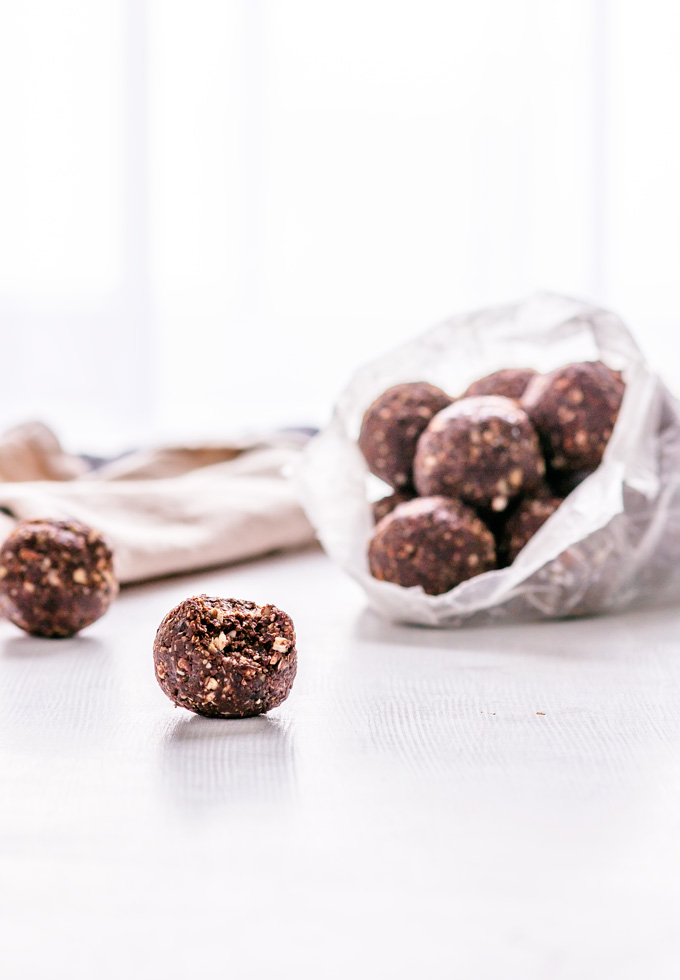 Tips & Tricks for chocolate energy balls recipe:
The easiest way to make balls is doing it with a small scoop.
If you see your mixture is too dry, add little more maple syrup, honey or water. If it is too wet, add more oatmeal.
If you want super healthy energy balls then add a couple of spices, like ground ginger, turmeric, and cinnamon. A teaspoon or ½ teaspoon will be enough to add extra healthiness. I tried all the spices above and loved all the variations.
Use any of your favorite nuts: almonds, pecans, walnuts, hazelnuts, macadamia, etc. Or do mix and match.
Substitute maple syrup for honey.
If you don't have ground coffee, take instant coffee and dissolve it in vanilla extract.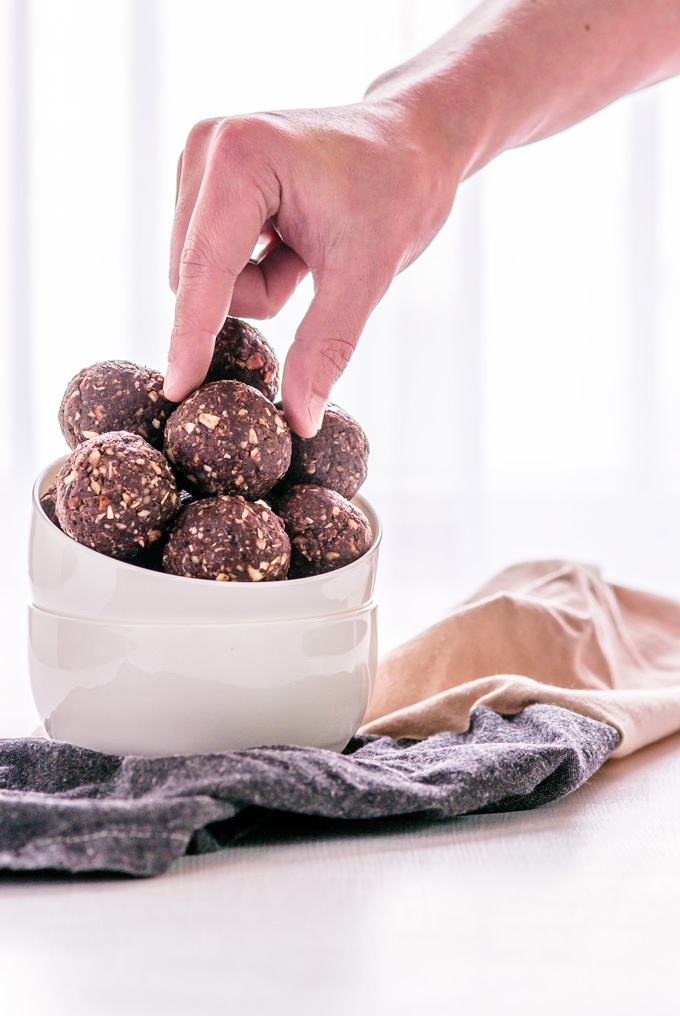 If you make this recipe, please share your picture with me by tagging it #thepuretaste on Instagram. Or share your results in the comment section down below. It means a whole world to me knowing someone is making my recipes.
Thank you for sharing and support ❤️❤️❤️
Maria
Yields: 27 energy balls
No Bake Chocolate Energy Balls Recipe
10 minPrep Time
10 minCook Time
20 minTotal Time
Ingredients:
¼ cup maple syrup
3 tbsp. coconut oil
2 tsp. vanilla extract
1 cup almonds
1 cup pecans
2 cups dates
1 cup oats
¾ cup shredded unsweetened coconut
¾ cup cocoa powder
1 tbsp. ground coffee
½ tsp. sea salt
Instructions:
In a medium saucepan combine maple syrup, coconut oil, and vanilla extract. Melt over medium heat.
Place nuts in a food processor. Pulse couple of times to break them into smaller pieces. Add dates and pulse again. Add rest of the ingredients and melted mixture. Pulse everything until the mixture comes together.
With a small scoop or tablespoon shape the mixture into balls. Chill until firm, at least 1 hour.
Store in an airtight container in the refrigerator up to 2 weeks.
Notes:
Total Time does not include chilling time, at least 1 hour.
7.8.1.2
44
https://thepuretaste.com/chocolate-energy-balls-recipe/
Disclosure: This post contains some affiliate links.  If you purchase a product through one of my links, I will earn a small commission at no extra cost to you. I only recommend products that I use and love myself. Thank you in advance for your support! It means a lot!
Products used in this post: