In this post you will find 5 Easy Cinco de Mayo Recipes for your Cinco de Mayo fiesta. For your convenience, you can download a FREE PDF e-book with all 5 recipes. And a printable Cinco de Mayo Menu to save you some time for drinking Margaritas rather than web searching 😉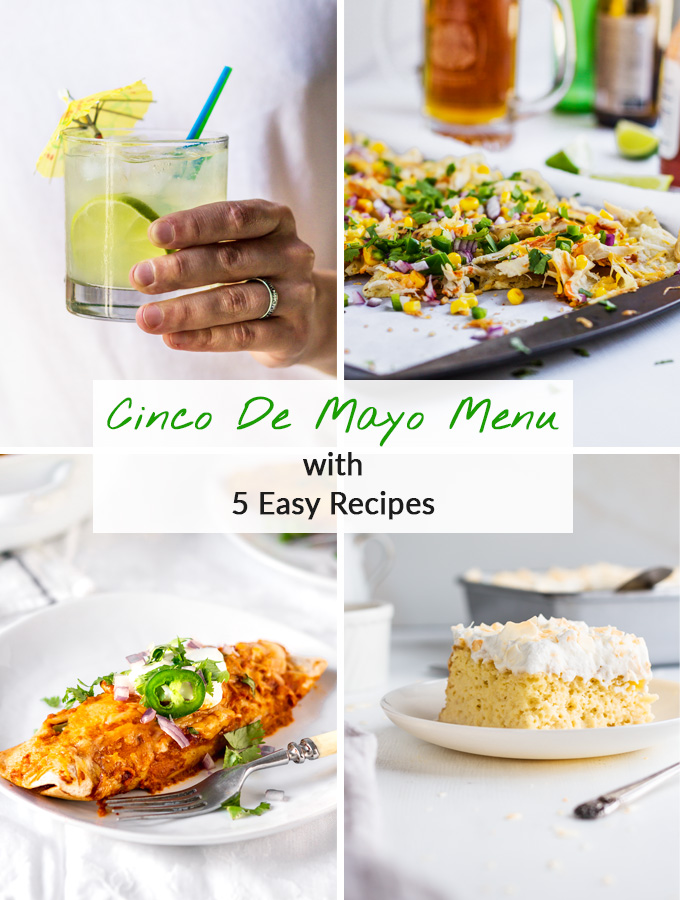 The fiesta is almost here!
Cinco de Mayo in Mexico is a celebration of victory over the French Empire at the Battle of Puebla. However, here in the US, it becomes a celebration of Mexican-American culture.
I love this holiday. It is full of colors, delicious food, fantastic music and good vibes. It is so important to celebrate the union of different cultures. Especially now. When politicians are doing their best to distance different nations from each other.
Hopefully, you are celebrating this holiday and planning to cook some Cinco de Mayo food.
Whether you are planning a cinco de mayo party or inviting a couple of friends and family, this easy Mexican-inspired recipes will save you lots of time.
In the PDF book you will find cinco de mayo drink – margarita, two appetizers, main dish – chicken enchiladas and Mexican dessert – tres leches cake. Something for everyone 😉
5 Easy Cinco de Mayo Recipes:
5 Minute Salsa
This is a simple guide for Cinco de Mayo food ideas to avoid the internet browsing hassle. All 5 recipes are easy to make, healthy or lightened up and most importantly delicious. Two of the recipes include rotisseries chicken which saves you a lot of time. Drinking margaritas sound better than spending the whole day cooking Mexican dishes, right? Keep it simple to have plenty of time to celebrate the fiesta.
To download Free Cinco de Mayo Menu with 5 Easy Recipes PDF E-BOOK, please subscribe to The Pure Taste blog using any form on the web. After sign up, you will receive free e-book directly to your inbox.
Have lots of fun celebrating Cinco de Mayo and Mexican culture!
Happy Cinco de Mayo, my friends! 🎉🎉🎉